Looking to record your own music? Your audio interface is one of the most important purchases you'll make.
It affects everything about your recordings. From how many mics you can use to how good they sound.
There are SO many different audio interfaces on the market today. It can be hard to tell which to get.
Have no fear.
To save you some trouble, I've picked out the best audio interfaces for the home recorder. They're sorted by price range, how they connect to your computer, and what they're best at recording.
Get industry-quality every time (steal this framework)
I'm guessing you're here because you want to make your mixes sound professional.
We put together a brief training that covers a totally new approach to music production. Until now, everyone has been teaching production totally backward.
Just click below to watch.
But if you just want to learn about Audio Interfaces specifically, keep reading.
A Quick Note…
It's worth mentioning that none of these companies are paying us to promote their product. After checking out tons of interfaces, we've found these ones are perfect for DIY musicians.
Have a look and see what's best for you!
Which Interface is Right for You?
Looking for an interface with a certain price range? Just click the button that matches your budget.
Need an interface that plugs in via thunderbolt instead of USB? Select the type of connection your computer has.
This'll show you options that match your needs.
I Need an Interface that Costs…
Connects Via…
And is Good at Recording…
PreSonus AudioBox USB 96 ($99.95)
Recommended for Solo Artists and Mobile Recording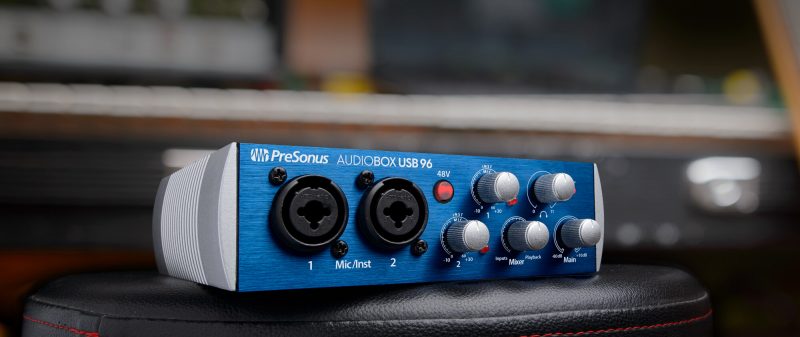 The PreSonus Audiobox USB 96 is a classic, super simple USB audio interface.
It features two high-quality preamps with jacks that accept XLR and ¼" inputs. Perfect for recording piano or DI electric guitar.
In addition to the analog inputs, you can also plug MIDI devices into the back.
The AudioBox sports two line outputs for studio monitors as well as a headphone jack.
It has an all-metal construction and small size. So this interface is an awesome choice for recording on the go. 
It's also perfect for a singer/songwriter or someone who won't be recording more than two things at once.
Focusrite Scarlett 2i2 ($159)
Recommended for Solo Artists and Mobile Recording

The Focusrite Scarlett 2i2 is another fantastic two-channel interface.
It boasts two Focusrite preamps with its added "Air" functionality. So you can get a few different types of sounds out of the same preamps.
This is really helpful for finding the right vocal and guitar tone.
The 2i2's inputs accept an XLR or ¼" cable as well.
This interface has two stereo outputs for a pair of monitors, as well as a headphone output.
This interface packs fantastic sound quality in a sleek and portable package. If you're looking for great, versatile preamps on a budget or need a portable interface, this is a great option.
Behringer U-Phoria UMC404HD ($178)
Recommended for Full Bands and Project Studios

Are you looking for the best value but need more than two preamps? The Behringer U-Phoria UMC404HD might just be for you.
This interface has four high-quality preamps for XLR or ¼" inch cables.
The U-Phoria features premium features you typically won't see on a device at its price point.
Each preamp comes with a pad that turns down the gain on the mic so you can get a proper level. This is a great feature for recording really loud sounds like drums or guitar amps.
This interface also features inserts. Inserts allow you to route your analog signal out of the interface into an external compressor, EQ, etc.
So if you're planning to use outboard gear, the U-Phoria is a solid pick.
The interface also sports main outputs for monitoring. Plus four additional ¼" outputs for sending audio out.
You can use these for more effects or create a separate headphone mix.
This interface also has MIDI In and Out ports, making it a really well-rounded tool.
This is a great interface that can handle a simple drum recording. And all of the other instruments you want to throw at it.
Steinberg UR44 ($329)
Recommended for Full Bands and Project Studios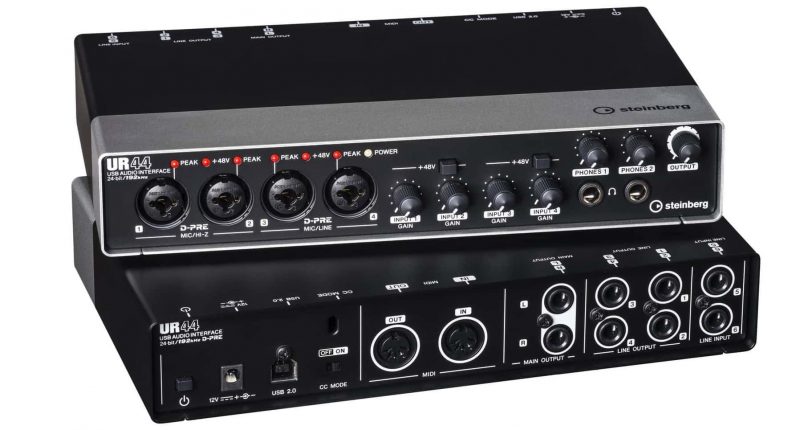 The Steinberg UR44 is an interface with four high-quality preamps. In addition, this interface has two dedicated line inputs on the back.
This is great if you want to use external preamps. You can plug those straight into the interface with no coloring of the sound.
The UR44 has a ton of output options. It has a main out for monitoring plus four separate outs you can use for headphone amps or effects units.
It also has two headphone outputs on the front. Perfect if you're recording someone else or just want another pair of ears to listen in while you track!
Lastly, this interface also has MIDI In and Out for all of your digital instrument needs.
This is a feature-packed interface that would be great for anyone tracking a band.
Focusrite Clarett 2Pre USB ($439)
Recommended for Solo Artists and Mobile Recording

The Clarett 2Pre only has two inputs, but they pack a punch.
Like most of the other options on this list, the Clarett's preamps accept XLR or ¼" inputs and allow for phantom power. What makes these preamps special is you basically get two preamps in one.
The Clarett preamps themselves are fantastically clean and awesome sounding.
Focusrite has also added an "Air" button. This button changes the sound of the preamp to emulate the classic Focusrite ISA preamp.
The Clarett may be small. But with four line outputs, a headphone jack, and MIDI In and Out, it's definitely well rounded.
This is an awesome option for someone looking to have a small, high-quality setup.
Focusrite Scarlett 18i20 ($499)
Recommended for Full Bands and Project Studios

The Focusrite Scarlett 18i20 may be one of the most popular interfaces for project studios. And for good reason.
It delivers tons of features and expandability to keep it operating for years to come. All for under $500.
Let's start with inputs.
This interface features eight XLR/¼" inputs for tracking drums or large full-band sessions.
Like the other Scarlett devices, the 18i20 also features Focusrite's "Air" technology. There's also a pad to lower the gain for louder sound sources.
It also features optical and S/PDIF connections.
This makes it easy to connect external preamps, instruments, or effect units. Super helpful if you need more inputs!
On the output side, you get ten line outs, including two for a pair of monitors. Two headphone jacks on the front and out optical ports.
Not enough? There is also a talkback function, monitoring tools, word clock out, and MIDI In and Out.
This is a full-featured interface that would be perfect in a project studio. Or for someone looking to record a full drum set or even a full band.
Roland Octa-Capture ($519)
Recommended for Full Bands and Mobile Recording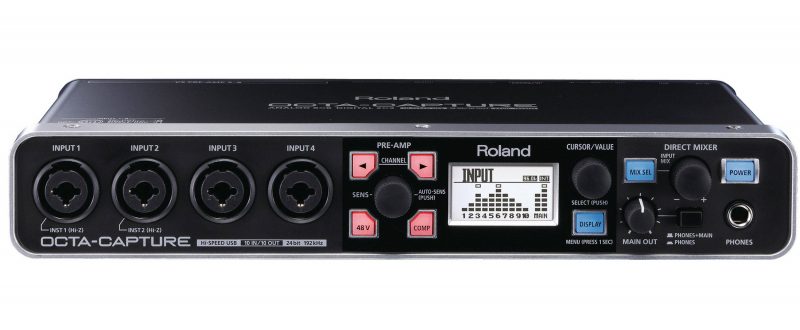 Talk about bang for your buck. The Roland Octa-Capture has tons of features you'd normally find in a pricier interface.
With eight XLR and ¼" inputs, you can easily record an entire drum set using the Octa-Capture. Auto-sens will even set the levels for you, saving you valuable time.
Each input comes with its own high pass filter, phase inverter, and compressor. Plenty of tools for adjusting your instrument's tone.
Not to mention the preamps! Despite the low price point and high number of inputs, these preamps sound really good.
As far as outputs go, the Octa-Capture has a headphone jack and eight TRS outputs.
The Octa-Capture also lets you set four different monitor mixes. So if you're tracking a full band and they all want different headphone mixes, you can do that!
Want even more inputs?
You can combine two Octa-Captures with a coaxial cable. You've just doubled the number of inputs you have.
This interface is loaded with features. It's perfect for anyone looking to record a lot of instruments without blowing a ton of money.
Universal Audio Apollo Twin MKII SOLO ($599)
Recommended for Solo Artists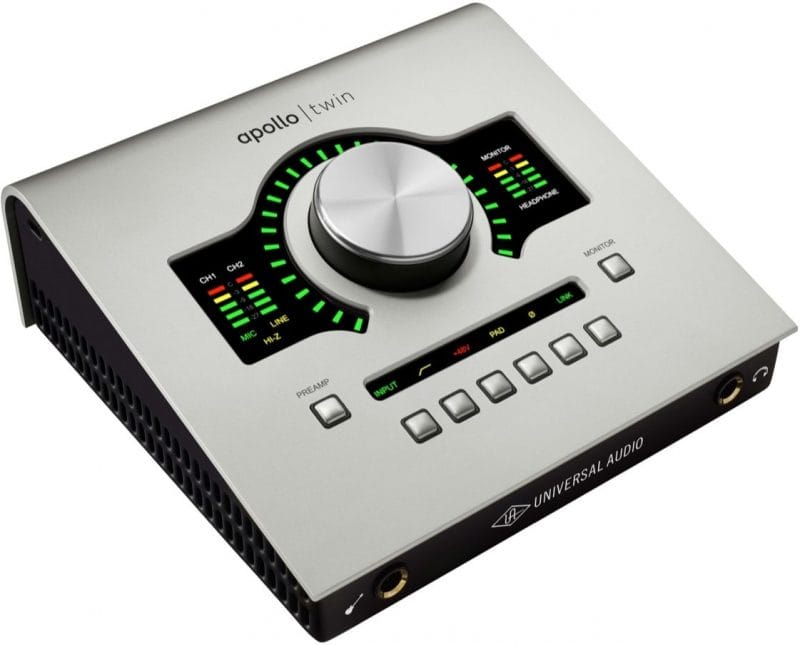 UA has become one of the most sought-after interface companies in the audio world. From pro to home studios, you can find UA gear in each of them.
The UA Apollo Twin MKII SOLO is a small little interface that is a great option to get you into the UA world.
Its two outstanding preamps have combo XLR and ¼" jacks for microphones or instruments. It also has an optical cable on the back to expand your inputs, if you need it.
It also features outputs for a pair of monitors. Plus a second pair of outputs to use for an accessory of your choosing.
The interface also has a great monitoring system with a large volume knob, mono switch, dim switch, and talkback feature.
What really makes these interfaces shine is their DSP capability.
Each UA interface features a processor that runs UA plugins. They range from high-quality emulations of preamps and compressors to EQs and reverbs.
You can only get these plugins on these interfaces and they are truly amazing.
The added bonus of using the UA system is the interface handles processing. That takes a load off of your computer to process a bunch of plugins.
The Apollo Twin is a great way to get into the UA ecosystem. If you're looking for a small setup with incredible sound quality, look no further.
Focusrite Clarett 4Pre ($599)
Recommended for Full Bands and Project Studios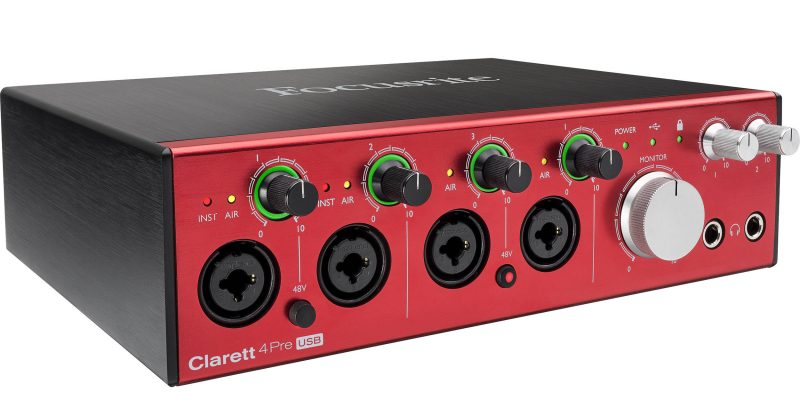 Like its little brother, the Clarett 2Pre, the 4Pre contains a bunch of great features. Then it adds more inputs and a few more great abilities.
As its name states, this interface features four fantastic Clarett preamps.
All four preamps feature Focusrite's "Air" feature. It emulates the famous ISA preamp.
If you need more preamps, you use the optical input for instant expansion.
There are four preamps up front and the optical input. Then it also features four line inputs on the back for external preamps or other effects.
Lastly, this interface includes MIDI In and Out and S/PDIF, as well.
If you're looking for a full-featured interface without a ton of preamps, this is a solid option.
Apogee Duet ($649)
Recommended for Solo Artists and Mobile Recording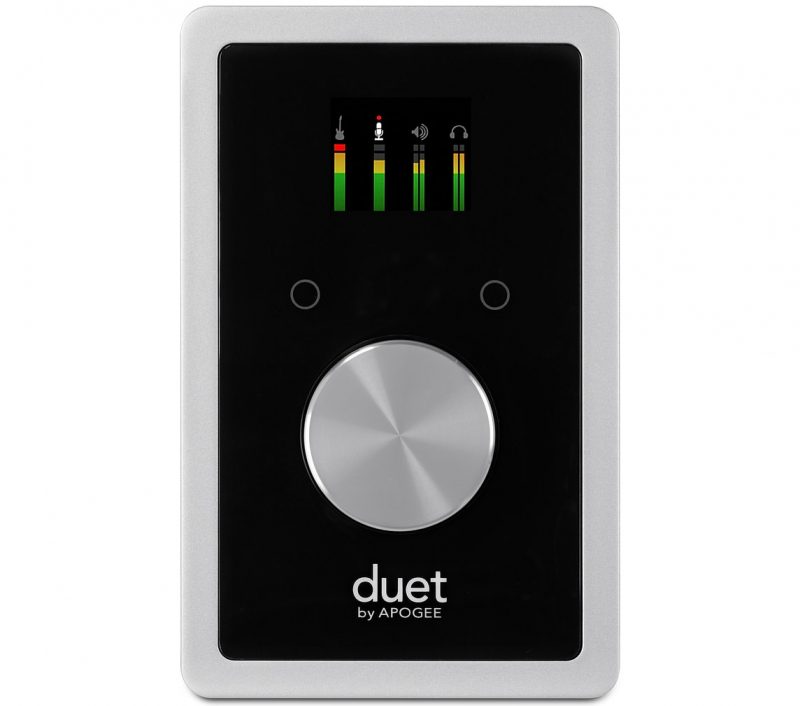 The Apogee Duet might just be the ultimate in portable interfaces for a DIY musician.
This interface is tiny and can connect seamlessly to a Mac or iPad. It'll even charge up your iPad while you use it!
This opens up a ton of options for where and how you record.
It features two excellent Apogee preamps and fantastic converters, too.
To top it off, it includes a great-looking OLED screen to show all of your levels and other pertinent information.
If you're looking for a high-end audio interface to use on the go, this checks all the boxes.
Audient iD44 ($699)
Recommended for Full Bands and Project Studio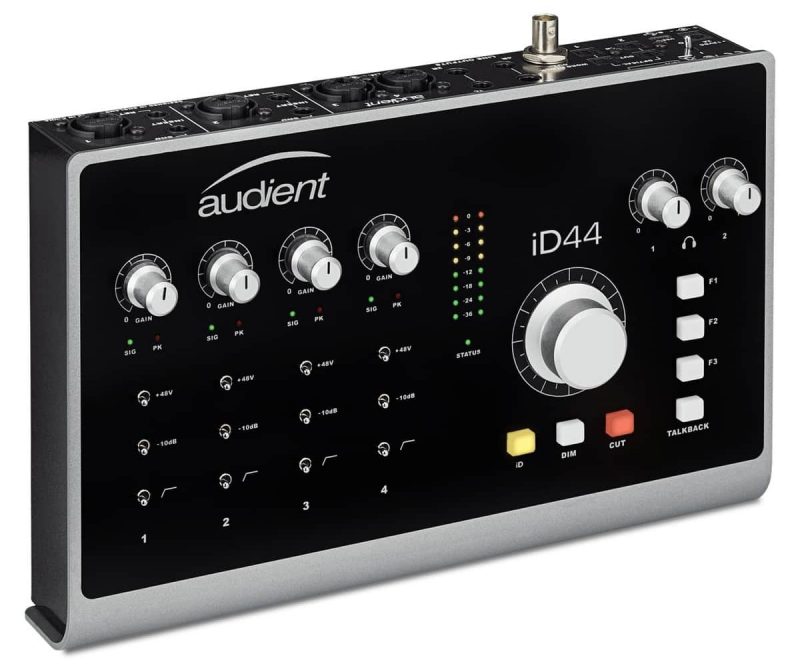 Need an affordable interface that you can expand with? There might be no better option than the Audient iD44.
This comes with four XLR and ¼" inputs. Plus the ability to add a whopping sixteen channels of audio through two optical inputs on the back.
The four onboard inputs have phantom power, a pad, and a hi-pass function, all built in.
The first two inputs on this interface also feature an insert function. It sends audio through effects before being converted to your computer.
That's great if you want to compress or EQ on your way in.
The iD44 also features two headphone outputs. They're conveniently located on the front of the unit for monitoring and playback.
Finally, it has a great monitoring system, featuring talkback for the headphones, a large volume knob, and dim and cut features.
This is a fantastic-sounding unit. It would fit into any growing project studio or band's arsenal.
PreSonus Studio 192 ($799)
Recommended for Full Bands and Project Studios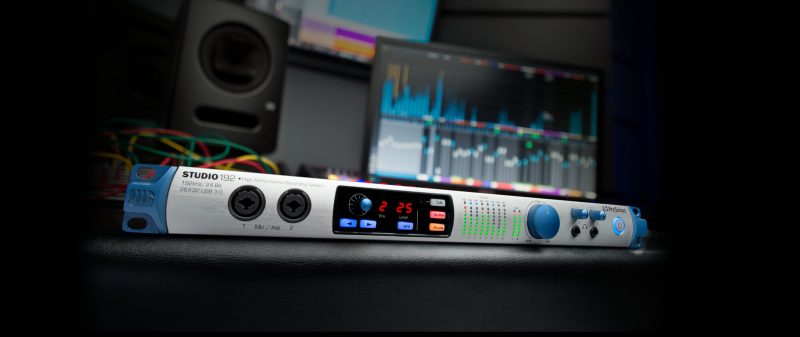 Maybe you're looking for an interface with eight preamps. Not to mention amazing quality, great digital conversion, and the ability to expand.
The PreSonus Studio 192 is a fantastic option.
This interface is the ultimate in larger-scale recording projects.
The onboard preamps are great. And you can add additional inputs through the plentiful optical inputs on the back.
The interface sports eight line outputs and two more for monitoring. The robust monitoring system includes talkback, mute, dim, and mono functions.
The interface uses what PreSonus calls "Fat Channel."
This functionality allows you to run effects like EQ, compression, gating, etc. from the interface. So you can get a fantastic sound during the recording session.
This interface is a true workhorse and is a great option for a full band or someone looking to record large groups.
The Best Audio Interfaces of 2021
PreSonus AudioBox USB 96
Focusrite Scarlett 2i2
Behringer U-Phoria UMC404HD
Steinberg UR44
Focusrite Clarett 2PRE USB
Focusrite Scarlett 18i20
Roland Octa-Capture
Universal Udio Apollo Twin MKII SOLO
Focusrite Clarett 4Pre
Apogee Duet
Audient iD44
PreSonus Studio 192
Conclusion: Audio Interfaces
Every last one of the interfaces on this list is a solid option. You really can't go wrong!
You might need a small interface you can carry around. Or you want a huge beast with tons of inputs.
There's something for everyone on this list.
Compare these options with your studio's needs. Then you should be much closer to finding the right interface for you.
Next Steps
If you want to dig deeper into music production and learn what it actually takes to make mixes that sound pro…
And you're an intermediate or advanced producer…
Be sure to check out the free masterclass:
Enjoy!